[ad_1]

Acclaimed San Antonio chef Steve McHugh opened his first Austin restaurant this week. New Texan restaurant Luminaire, along with new bar Las Bis, both opened in downtown Austin in the Hyatt Centric Congress Avenue Austin hotel at 721 Congress Avenue on February 1.
McHugh's general cooking ethos is using and showcasing genuine Texas ingredients with heavy meat components — approaches he employed with his critically acclaimed San Antonio restaurant Cured as well as San Antonio hotel restaurant Landrace. And Luminaire and Las Bis are no exceptions.
In Austin, this means lots of Texan meats (yes, tons of charcuterie) and vegetables that are thoughtfully prepared. To make the two spots stand apart from San Antonio, there are more Spanish by-way-of-Spain inflections for the all-day menus. "It's definitely not Cured," he says to Eater. "We didn't want to just bring a bunch of San Antonio ideas."
To develop the Austin menu, McHugh and the team looked over Cured's food history, seeing what they did well and what areas they wanted to explore but couldn't because it didn't fit the San Antonio restaurant or there wasn't time or space. This is how they decided to veer into the Spain route for Luminaire. "Put on that Spanish hat and go, 'Okay, now if I was doing beef in Spain, how would I do it?'" he says. They took Cured's bresaola — an Italian salted beef that is fridge-cured and then air-dried — and applied techniques typically used for cecina — the Spanish version of bresaola — by smoking it.
Another way McHugh is making Luminaire stand out is through Delgada chops, which are much-thinner steaks compared to big thick hunks of steaks "that we can griddle really quickly," he explains, that work for a group appetizer or entree.
The idea came about because of the pandemic. He recounts how Cured would buy a pig on a regular basis from their rancher. This stopped during the pandemic, but the rancher still needed to do something with his products, so he started making thin meat chops for sale. "I fell in love with this idea of, instead of this huge double-cut pork chop that's going to cost you $85, here are a couple of little thin ones where it's not going to break the bank, and, at the same time, you're getting really good products and meats, and we're still able to support our farmers," he says.
Another dish that McHugh is excited about is the empanadas. Cured makes a boudin one, but the Austin restaurant expands with more. There's the chorizo and potato; the chicken, fig, and idiazabal cheese; and the goat cheese and roasted red pepper.
The restaurant space is on the ground floor of the hotel — McHugh describes it as a "postage-size sample of a piece of property [that] is really narrow" — which made designing tricky. There is a charcuterie display, built by the same company that worked on Cured. There are about 60 to 65 seats, making it "small, tight, and boisterous," he says. If need be, restaurant seating can spill over onto the second floor.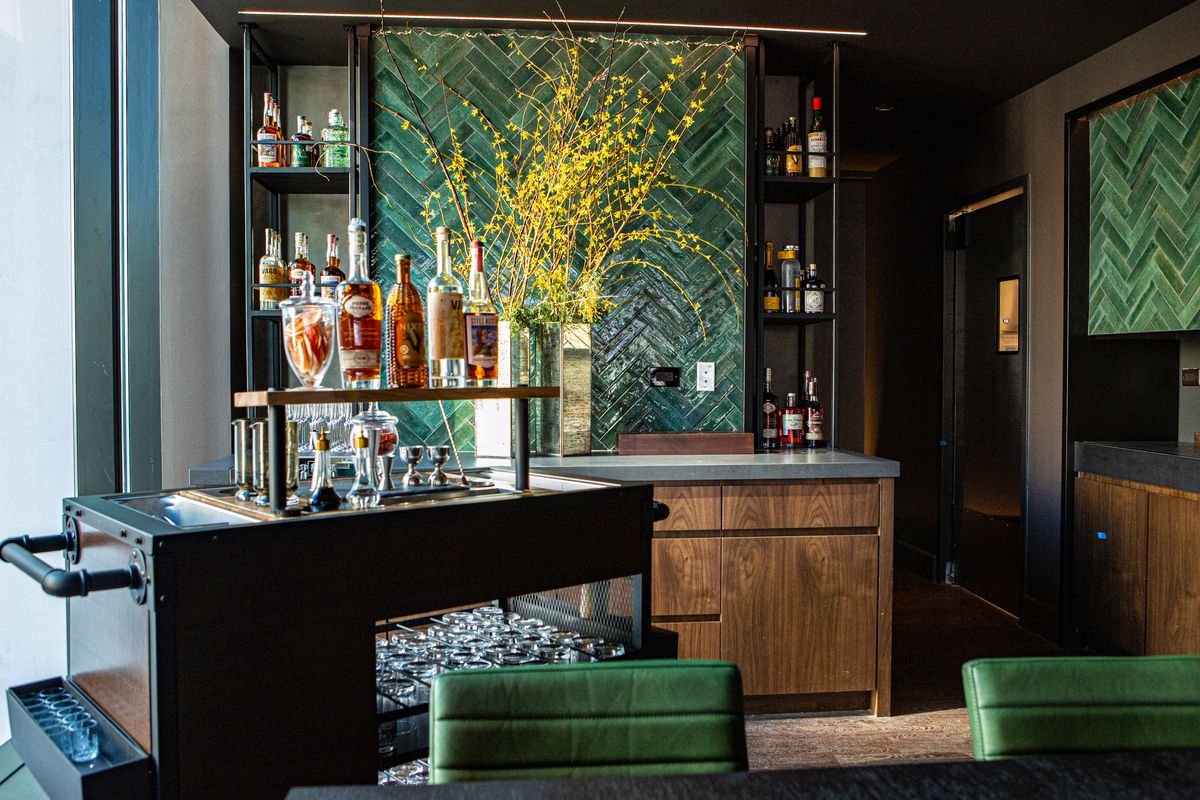 And then, up on the eighth floor is Las Bis, the bar with a nice patio overlooking downtown Austin. The space is a bar first, but McHugh didn't want food to be an afterthought. He and his wife and business partner Sylvia traveled to Barcelona years ago where they dined at tapas restaurant Quimet & Quimet, and were enamored with the conservas. Since then, "we've always had this idea to create a bar or restaurant that worked with tins," he says. It worked for Las Bis, since they wanted to make food that was easy to prepare and serve. This means plated tin options from Jose Gourmet, Fishwife, Conservas de Cambados, and others.
---
Opening a restaurant in Austin wasn't necessarily McHugh's set plan. "I'm a see-what-happens kind of person," he says, "and this was an interesting opportunity for us." He was approached by a headhunter who was looking for a chef to run the hotel's restaurants. McHugh's already familiar with the Hyatt brand since Landrace is in the Thompson San Antonio under the company. Hyatt Centric Congress Avenue Austin's owner the McWhinney Group was "looking for something a little bit different, a little bit unfamiliar" for Austin. What appealed to him about the project was that the company doesn't sell restaurants. He signed the contract at the beginning of the pandemic.
McHugh also liked that the hotel was in downtown Austin, next to the State and Paramount theaters. The name of the main restaurant was selected by FODA Studio's Jett Butler, who has branded many of McHugh's restaurants, and it means the person who would shine the spotlight on stage. "We really want to make sure that we are on people's minds when [they're] heading to a show. We really wanted to pay homage to not only that relationship but theaters in general," he says. In turn, McHugh wants the spots to become the place to grab a meal and/or drinks before and after shows.
The rest of the Luminaire/Las Bis team includes the director of operations Robert Rodriguez (who had been the opening general manager of Cured); executive chef Greg Driver (an Austin-based chef who had worked at various hotels and clubs in the city, including the Driskill, Radisson, Canopy by Hilton Austin Downtown, and Westwood Country Club); chef de cuisine Emilion Baez (who was one of McHugh's line cooks when he was chef de cuisine at San Antonio restaurant Luke, also worked at Cured, Landrace, and Esquire Tavern); sous chefs Ben Avada (also a Cured alum) and Ashlee Mynarcik (who worked with Driver).
Luminaire's hours are from 6:30 a.m. to 11 p.m. daily. Las Bis's hours are from 4 p.m. to midnight Monday through Thursday, 11 a.m. to midnight Friday and Saturday, and noon to midnight Sunday.


[ad_2]