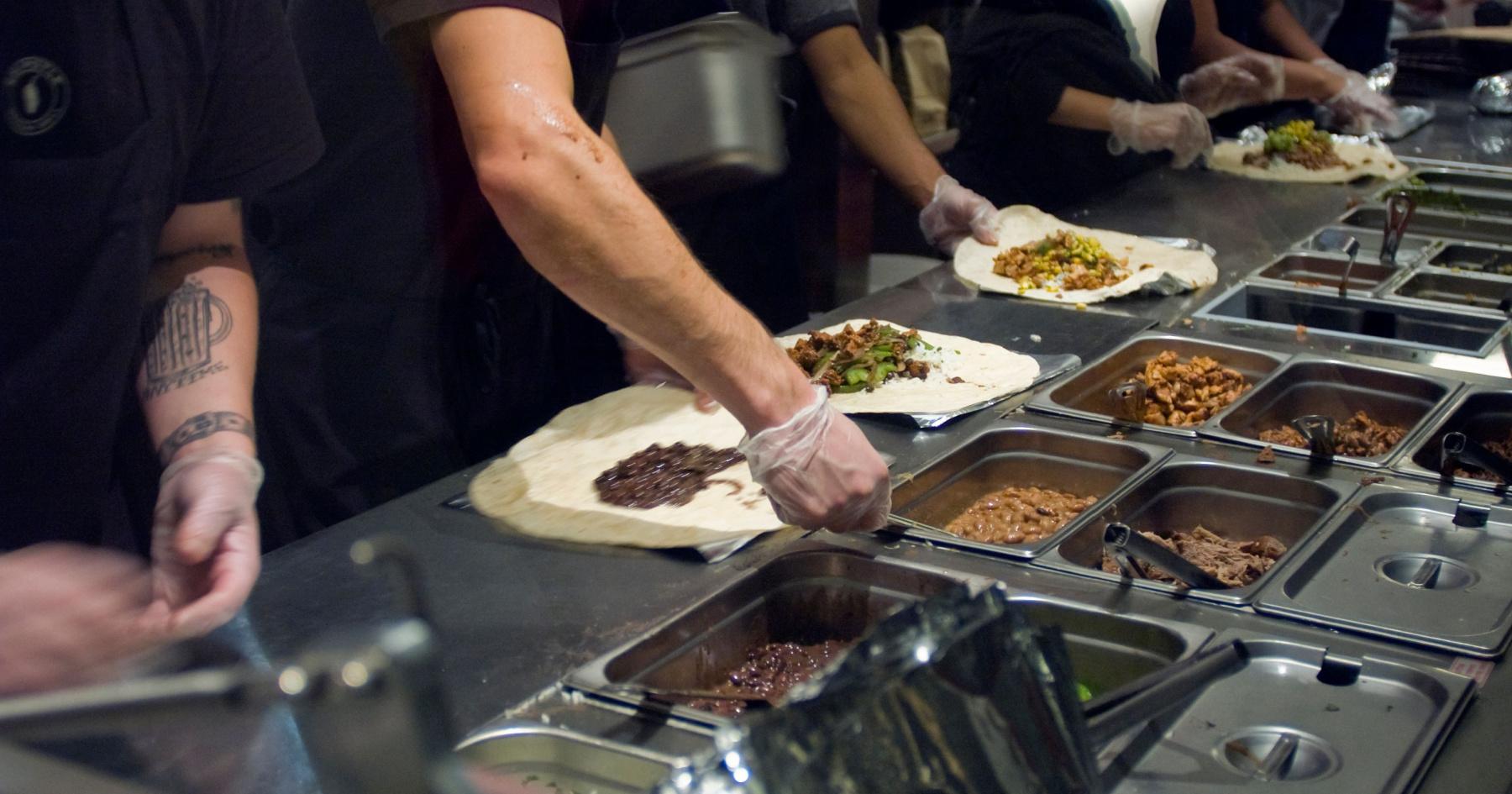 [ad_1]

Chipotle plans to test a robotic makeline designed with tech company Hyphen./Photograph: Shutterstock.
Chipotle Mexican Grill will soon begin testing an automated makeline in partnership with tech company Hyphen, the company said Tuesday.
The announcement is one of several moves designed to speed throughput and boost restaurant productivity after a tough fourth quarter of softer-than-expected results.
Same-store sales for the Dec. 31-ended quarter were up 5.6%, but that increase came largely from menu pricing of 13.5%, offset by a 4% decline in transactions, 3% from mix, and then about 80 basis points from loyalty program breakage. The Garlic Guajillo Steak promotion in December had a disappointing performance, and holiday sales didn't have the expected "pop," which CFO Jack Hartung said was in line with lackluster retail sales more broadly.
After the holidays were done, however, business picked up, with transactions turning positive in January. The company is projecting positive traffic in the low-single digits for the first quarter of 2023.
Chipotle CEO Brian Niccol said improving trends indicate the company's focus on "getting back to basics" and running great restaurants is paying off.
One strategy is continuing the investment in technology, such as the Hyphen makeline prototype that will be tested in the chain's Cultivate center in the first half of 2023.
Hyphen was one of the first investment targets for Chipotle's Cultivate Next Fund last year. The San Jose, Calif.-based company designs automated makelines—essentially robotic makelines with dishes moving down a conveyor belt—that promise to speed service and improve order accuracy. Hyphen has said the makeline has the potential of producing more than 350 meals per hour from digital orders.
"This would allow our restaurant teams to focus more on our in-restaurant guests on the frontline, further improving throughput," Niccol said.
Chipotle isn't the only one looking at robotic makelines. Sweetgreen is planning to open two fully automated restaurants this year using the Spyce technology that company acquired in 2021.
In addition to testing the Hyphen system, Chipotle has also expanded the test of a new grill that Niccol said helps team members cook chicken and steak faster and more consistently. The grill will move from a test in one store to multiple locations to go through the company's stage-gate process, he said.
And Chipotle is also testing a robotic frying arm called "Chippy" that makes tortilla chips.
But technology isn't always the answer, Niccol noted.
The chain will be reducing its use of virtual training, for example. Instead, crew members will be moved into stores sooner for what Niccol calls "shoulder-to-shoulder" training by experienced managers.
"This helps to accelerate onboarding and gives more confidence to our new crew members as they are learning by doing," said Niccol. "Shoulder-to-shoulder training by experienced managers is an essential process."
Chipotle's turnover rate improved in December and 90% of restaurants are fully staffed, which is creating more stability and more experienced teams, Niccol said.
Earlier this year, Chipotle rolled out an updated training program called Project Square One, which Niccol said has helped ensure restaurants are fully staffed and properly deployed. That move has helped avoid the pandemic-era workarounds, like "deactivation" of menu items, like guacamole or chips, when ingredients ran short. Niccol said there were points during the quarter when restaurants had hundreds of menu deactivations.
The company has "reestablished with both our suppliers, our distribution partners and our teams that that's not a fallback position anymore," Niccol said. "The expectation is you should be in stock, and then you should be prepared from open to close with those items."
Chipotle opened 100 restaurants in the fourth quarter alone—a record number and mostly in December—ending the quarter with a total of 3,187. This year, the company said new restaurant openings will create the opportunity to promote more than 1,800 hourly managers, more than 255 general managers and more than 40 field leaders, Niccol said.
Last month, the chain announced a hiring push with the goal of attracting 15,000 new workers.
In fiscal 2022, more than 22,000 were promoted and 90% of restaurant management roles were internal promotions.
Revenue during the quarter increased 11.2% to $2.2 billion. Chipotle's dine-in sales grew 17.5% during the fourth quarter, and digital sales dipped to 37.4%, which Hartung said is an expected balance, given customers are out and about more.
But Niccol noted that delivery orders declined about 15% and he acknowledged that the premium cost of delivery could be to blame as inflation-weary guests tended to choose the less expensive option of in-store pickup.
Still, he said there was little resistance to menu price increases in 2022 and he reiterated the value offering Chipotle offers, compared with fast-casual peers.
No menu price increases are planned for 2023 at this point.
Average unit volumes increased to $2.7 million, and Hartung remained confident the chain would reach its goal of AUVs over $3 million as it pushes to reach 7,000 units in North America.
Niccol said Chipotle is moving "full speed ahead" into Canada, with 10 units scheduled to open there in 2023.
For the full year, Chipotle's same-store sales were up 8%. Revenues increased 14.4% to $8.6 billion, and net income was $899 million, or $32.04 per share, compared with $652.9 million, or $22.90 per share, a year ago.
Members help make our journalism possible. Become a Restaurant Business member today and unlock exclusive benefits, including unlimited access to all of our content. Sign up here.


[ad_2]